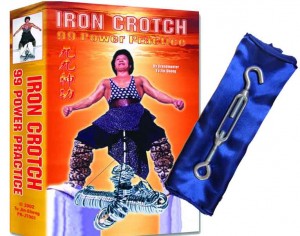 What is included:
Iron Crotch Instructional DVD
Training Silk
Training Hook
Iron Crotch Instructional DVD:
You've heard the stories, now experience the reality! Iron Crotch is the most talked about ancient Chinese practice! Called Jiu Jiu Shen Gong (99 Power Practice) this ancient skill unleashes your untapped potential and allows you to achieve your peak performance! Grandmaster Tu's students have lifted hundreds of pounds with their privates, even students in their 70s! Dramatically enhances your potency and helps with sexual response dysfunction or lack of interest in sex. Grandmaster Tu Jin-Sheng is a noted master of Qigong and Chinese medicine. He is recognized as a Professor in medical societies in Taiwan, Japan, Canada and the U.S.A. He is also a master painter and is renowned for his extraordinary feats of hard Kung Fu, such as breaking solid objects with his bare hands and lifting heavy weights with his private parts. (approx. 60 min) Disclaimer: This Iron Crotch video is for demonstration purposes only. These exercises should not be attempted without the supervision of a certified master of Jiu Jiu Shen Gong. The training tools are only for students currently practicing under such a master. 99eStore disclaims all liability from the use of this videotape.