Tim [39]
Dallas, Texas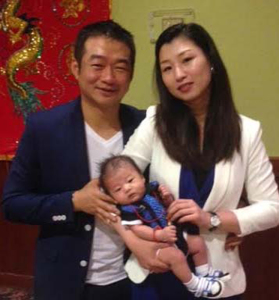 Thank you Grandmaster Tu for traveling all over the world to teach this amazing Qi Gong [Iron Crotch]. My wife and I have been trying to have a child for more than 7 years. Under Grandmaster Tu's guidance, I practiced Iron crotch for 6 month and trained at least 3 times a week. My testosterone has doubled and shortly after I had my first son. I was very proud of myself, my hard work and consistency in training Iron Crotch paid off. My sex life has also change drastically that I had to take a break. I feel like I may need 3 wives in order to satisfy my needs. (Joking) Winter is coming and we are hoping to try again and have a daughter. We wish Sifu and Sifu's family a safe and healthy, ambitious exhibition, financial resources rolling!
Happy Mid-Autumn Festival!
_____________________________________________________________________________________________
Dr. Yang [73]
Houston, Texas
Grandmaster Tu once told me only "bad people" comes to learn Qi Gong from him. His statement is actually very true because the majority of the people that attends his seminars are those seeking for his guidance in hopes of practicing Qi Gong to improve their slowly declining health. I was actually one of those attendees. In my early years I was too dedicated to my research that I did not pay attention to my regular health. As I got older and was close to retirement, I could feel that my body was taking a toll from all the stress I had put it through during my earlier years. Some of my problems I was experiencing was poor sleep due to having to get up 2-3 times at night to use the restroom, and an increase in seasonal pollen allergies that I never had before.
Four years ago I was introduced to Grandmaster Tu by a close friend that was already a student his. He had recommended me to attend his seminar. After that day, I decided to trust in his system and become his student. I attended all the classes and also practiced diligently at home day and night. I have been practicing for 4 years now and my body has never felt this refreshed. All my problems that I listed had disappeared.
Grandmaster Tu is originally from Chiayi, Taiwan and is very proficient in all kinds of martial arts. Here is a list of some of the Qi gong that I have learned from Grandmaster Tu:
Xian Qin Qi Shi, Qi Jing Ba Mai, and Eight Pieces Brocade.
In addition to these exercises Grandmaster Tu also teaches Iron Crotch. Grandmaster Tu is world famous for being the first man to ever pull a jet plane weighing over thousands of pound by himself. He was also able to have his private kicked multiple times by a Karate Master and no harm was inflicted to him. Iron Crotch is the best training for men and it can help open the Du Meridian (Governing Vessel), prevent and eliminate problems from occurring, and strengthens your kidney. In order to strengthen your Kidney you must follow these 3 secret learning tips.
Cultivate Sperm
Lock the sperm within your body
Refine the sperm to work within your body.
Practicing Iron Crotch is not difficult. All you need is a small space to practice and you must practice at least 15-30min every morning. Within a week you will feel a difference in your body.
We practice Qi Gong for the sole purpose of increasing our health and vitality. In order to see the positive effects of Qi Gong one must practice diligently and frequently. Practicing Qi Gong is like playing golf, in order to be a good golfer you must practice frequently. Having good habits and taking action to practice Qi Gong daily will ensure good health. It is best to practice with your spouse or a training partner. This allows for one to help and learn from one another.
_____________________________________________________________________________________________
Henry [35]
New York, NY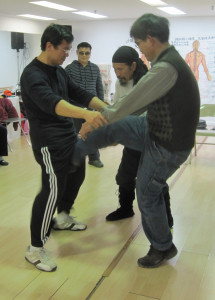 My name is Henry Chiang. I begin learning from Grandmaster Tu in December 2010. My Father was Grandmaster Tu's student back in Taiwan decades ago. He encouraged me to look into this 'unique' form of martial art while I was attending school in New York.
Like everyone else, I was skeptical about how 'private part' is linked to one's health and 'lifting weight' itself is just another advertisement stunt. I exercise regularly and spend many weekends backpacking in national parks during Spring and Fall. I also participate Dragon Boat races in Summary for a few years. In 2008, I joined a triathlon race in Harriman State park. From western doctors' opinion, I was VERY healthy.
However, I suffered pneumonia in 2009 which is very rare for a healthy male in 30s. Although I quickly recovered but I started questioning my fundamental concept of 'health'. Perhaps it was just the superficial look which is meaningless. I began search for answer and remember my Father's suggestion about Grandmaster Tu. I took my first class in December 2010. In contrary to other students, I did not experience dramatic improvement immediately. But over the past years, I a lot had less sick days and I feel solid.
What attracted me more from Grandmaster Tu is the re-discovery of Chinese culture. From Chinese medicine to Yijing (易經) and Feng Shui (風水) plus other Taoism (道家) theories, it's like a bottomless treasure box. I started to see our ancestors view on how ourselves fit in the universe. By physical training, meditation and operate in-sync with the nature, we can exit the 'cycle' that everyone is stuck in. It will probably take me 10~15 years to see result (if any) but I am happy that I have an opportunity to do so.
At the end of the day, If you ask me what is my ultimate goal is, I probably will say 'Do the right thing' – to the society, to family & friends, to Grandmaster Tu and, most importantly, myself. An a healthy body is just a bonus while you are doing so.
_____________________________________________________________________________________________
Hadi Kurniawan Hidayat [25]
Seattle, WA
I know this lessons from my uncle and auntie, who saw Grandmaster Tu's demonstration back a few years ago and they are astonished with Grandmaster Tu's qigong and kung-fu skill and knowledge.
So both my uncle and aunt recommend me to learn from Grandmaster Tu.
I do not speak mandarin, but he guide the training with translation from Grandmaster Tu's siblings/wife.
And every teaching will be easy even for the non-chinese speaker.
Grandmaster Tu teach me the Iron Crotch and also give me more knowledge about qigong and a lot of traditional chinese way of health preservation.
The training and teaching are designed to fit with your capability and Grandmaster Tu have a lot of ways to make the training to fit me.
He also teach the technique step by step, so even a beginner will find it easy to understand.
If there's anything I don't understand I always ask to make everything clear and Grandmaster Tu always really helpful with answering all of my questions.
It is very hard to find a great teacher like Grandmaster Tu and it is such a very precious teaching I've learnt and I want to learn more from Grandmaster Tu.
I'm so glad to know him, learn from him and be a part of Qigong 99 community.
Thank you Grandmaster Tu,
_____________________________________________________________________________________________
Raymond [Age 66]
Simpsonville, South Carolina
Posted on 06 January 2011.
My decision to travel across the country and to spend 3 days to be tutored by Grandmaster Tu was not made lightly. The time and expense were significant. However, my over 40 year search for health and fitness evolved to the point that I realized I was not firing on all cylinders. I am anxious to share that my experience was above expectations. Grandmaster Tu quickly understood my condition. The most obvious of all was to change a bone wearing martial arts and weight training program into an internal to external health program. He is such a good health practitioner that he spotted a less than perfect movement of my knee. On the spot he gently massaged what I think was an adhesion resulting in range of motion that I have not experienced in years. With the support of his son Jimmy, daughter Julie and wife Sandy, the instruction was well prepared and comprehensive. They are warm caring people and I appreciate their continuing support. My visit ended with a participation in a regularly scheduled group classes. I was very appreciative to be with a group of men and woman who have cultivated a wonderful level of well being and fitness. They are living proof that the practice is an elixir. For part of the session, the men gathered in a separate room for the hanging training. It was very respectful and demure in an appropriate context. For anyone seeking physical improvement both internally and externally so that you may feel and perform as best that you possibly can, I recommend Grandmaster Tu' s practice.
_____________________________________________________________________________________________
Jorge [Age 59]
Santa Rosa, CA
Posted on 06 January 2011.
I was initiated by Master Tu in the Iron Crotch qigong practice in January of 2005.
Three years later I was lifting 323 pounds.
I am still on the path of Iron Crotch and although it has been part of my daily routine for several years, I am still amazed with the transformation that has taken place in my body because of this practice and the complementary qigong exercises that came with it.
I started Iron Crotch to experience qi in a deeper way to expand the capabilities
of my body and mind and get established in great health. Iron Crotch has not
disappoint me in either way.
Besides the incredible fact that my genitals can lift hundreds of pounds,
I am enjoying a strong, youthful body capable of feats that were
unachievable in younger years. I am having a progressive experience
of an iron body, that can withstand hits with hard objects and aging
has slowed down.
Regarding health, I have noticed that staying healthy has become more
and more normal and that if the body has some symptoms of disease
it can recover with greater speed.
I encourage men (and women) to explore this practice with the guidance
of an expert like Master Tu. Its potential as preventive medicine and
physical fitness development is outstanding. The human genitals are
reservoirs of extraordinary power and Iron Crotch has the key
to access it.
_____________________________________________________________________________________________
Daniel [Age 35]
Arcadia, CA
Posted on 08 July 2010

_____________________________________________________________________________________________
Dharam [Age 50]
Arcadia, CA
Posted on 08 July 2010
_____________________________________________________________________________________________
Peter [Age 50]
Arcadia, CA
Posted on 08 July 2010